In 2006 we started what's become an annual get-together of homeschool families and friends where we enjoy lots of great music, good fellowship, and family fun. Back when we started, we used an old unoccupied church camp, but due to it becoming unavailable, we moved to beautiful Camp Galilee located in El Dorado Springs, MO. With the exception of 2015, when the Fest visited Camp Sagmount in Joplin, Missouri, we've been here at Galilee every year since.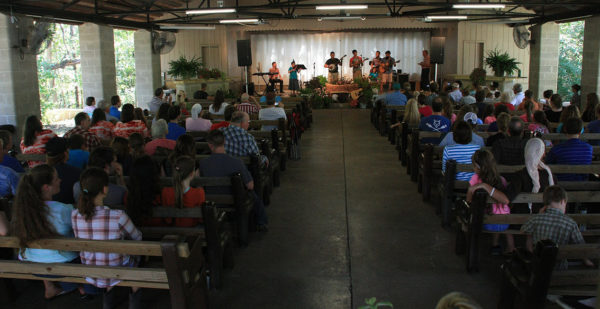 HomeSchool Music Fest is non-denominational, and people of all persuasions are encouraged to attend. We ask that all attendees maintain our welcoming atmosphere and treat one another with respect at all times.
Why do we charge admission?
2021 Admission Update: NO admission fees apply this year~ Generous donations to bless the bands with will be very appreciated! Lodging reservations will need to be paid upon arrival.
Renting the camp facility costs a significant amount of money – in the thousands of dollars for every year we use it. While the efforts of our volunteers make a tremendous difference in making the Fest work, one thing they can't do with any amount of effort is offset this cost. In previous years we've scraped by with fundraisers, donations, and in-kind contributions, but circumstances have changed to the point where we feel that HomeSchool Music Fest needs to at least come close to breaking even.
To that end, we are now charging a small admission per attendee – $5.00 for people 13 and up, $3.00 for 12 and below. Because we realize that this could run to quite a bit for larger families, we are also offering a "household admission" of $20 for any number of people from the same home. This money goes solely against the cost of renting the camp, with any extra being used for Music Fest-related expenses.
If you want to attend HomeSchool Music Fest but cannot afford the admission cost, check the appropriate box on the registration page to apply for an admission waiver. We don't want anyone to miss the fun at HomeSchool Music Fest! (Waivers for lodging costs are not available, sorry.)