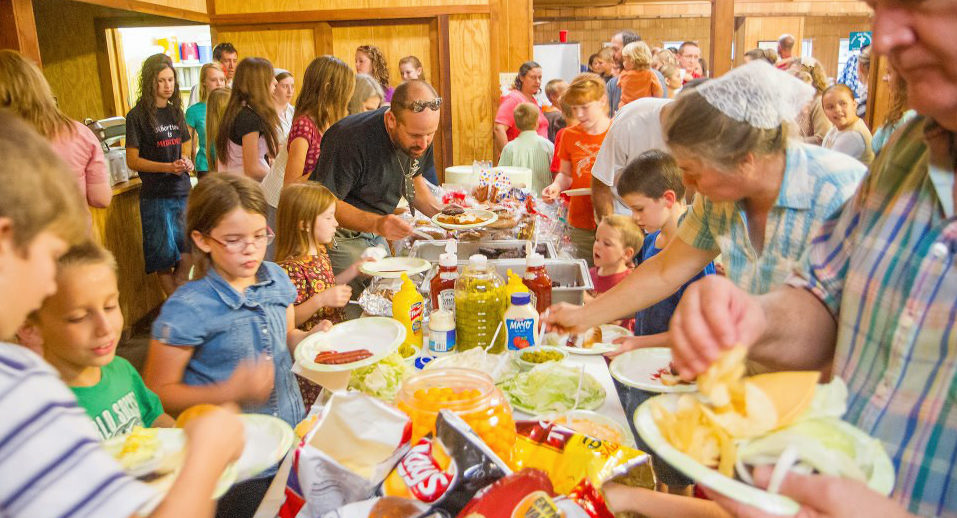 See this year's schedule for details on mealtimes and what to bring.
Ice & cups will be provided throughout the weekend. Plates and utensils will be provided at evening meals and Sunday lunch only. There is some limited refrigerator space for attendees' use. In addition, you will have shared access to a sink, microwave, toaster, and coffee maker in the dining hall.
Friday Evening Meal- 4:30pm
On Friday night we're having a pot-luck bar-b-que! The grill will be fired up so all our Friday night attendees can enjoy a meal together! Please bring enough hot dogs and/or hamburgers and buns for your family, all ready for us to grill, as well as a cold side dish or salad, and a dessert.
For the potluck BBQ on Friday evening, please try to have all grill meats for general consumption in the kitchen cooler marked 'GRILL MEATS' in the designated bins BY 3 PM Friday, as grilling will begin soon after, with foods kept in warming ovens until the evening meal.
Please keep separate any meat you would like to grill yourself, and the grills will open up around 3:30 pm for special or self service grilling. One grill will be marked and designated 'Beef, Chicken, or Turkey Only'.
(Drinks, condiments, and vegetarian baked beans will be provided.)
All guests are welcome to bring their own food at any time.
All Breakfasts
You're on your own. :o)
Saturday Noon Meal- 12:30pm
Family picnic time! Bring your own food and eat in the dining hall or out in the picnic area.
Saturday Evening Meal- 4:30pm
John and his gang, from Guthrie, OK. are offering to do their great chef salad for supper Saturday evening again before the concert. Please text Kaiti at 417-391-4103 and let her know how many plates your family will be needing, so we can let the guys know about how many they should prepare for. They have generously offered to do this on a donation basis, so even though there is not a fee for this meal, we hope if you choose to share this with us, that you will be generous back to them for blessing us all in this way!
SATURDAY NIGHT: CHEF SALAD
PLEASE TEXT KAITI AT 417-391-4103 WITH THE NUMBER OF PLATES YOU WISH TO RESERVE FOR YOUR FAMILY
COST: YOUR GENEROUS DONATION
All guests are welcome to bring their own food at any time.
Sunday Afternoon Meal- Following morning service
A fellowship meal is planned for after the morning service in the dining hall. Let's have one more meal and bit of fellowship together before we say our good-byes! An Italian meal of spaghetti (GF and regular) will be served, with salad, etc. This is a no charge/donation meal. Thanks so much!!!